Our Cleaning Services -
Johns Creek
You are mere moments away from starting your journey to a sparkling clean property.  We have teams dedicated to providing the best house cleaning, commercial cleaning, or post construction cleaning experience you've ever had.  Feel free to soak in all the summary information on this page.  When you're ready, just click the "Free Quote" button, answer a few questions, submit it online, and we'll prepare a customized cleaning plan for you.  We look forward to serving you.
Free Quote
Residential Cleaning Services
We provide comprehensive, full-service house cleaning services to homes of all sizes.  We also service apartments and condominiums.  Regardless of the size of your house or apartment, we have a cleaning plan that ca be customized to your needs.  Our standard services include:
Vacuuming carpets, steam cleaning tile floors, and Bona treating hardwoods
Cleaning and disinfecting toilets, sinks and counters in bath, cleaning tubs, shower floors and doors, and cleaning tile walls

Clean outside of appliances, clean and disinfect sinks and counter tops, wipe down all cabinets, clean outside of range hood

General dusting, including dust ceiling fans, dust blinds, dust baseboards, dust doors

Polish wood furniture
Commercial Cleaning Services
Our commercial cleaning services team can handle small to mid-sized jobs for a wide swath of businesses and properties that serve the public.  We can provide professional cleaning programs for small schools and churches, for art galleries and theaters, for retail shops and small businesses.  We can clean small offices and even health clubs.  Our standard commercial services include:
Vacuuming and dusting the premises

Steaming tile floors

Cleaning kitchens / break rooms (including sanitizing counters and sinks)

Cleaning bathrooms

(including sanitizing counters and sinks)
Post Construction Cleaning Services
We provide top quality professional cleaning service at your construction job site through all phases of construction and remodeling. We remove construction waste and make sure that every cabinet, drawer, door, ceiling fan, hanging fixture, window sill and all floors are clean and dust free.  Our standard services include:
Clean wood scraps and construction debris
Sweep out house, vacuum floors, and dust
Vacuum cabinets & drawers, wipe down cabinets & doors
Wipe down ceiling fans & hanging fixtures
Vacuum & wipe down window sills and exterior door thresholds
Additional Cleaning Services
Carpet Cleaning
If you need the carpets cleaned in your home or apartment, we can schedule a special trip for that. As always, your satisfaction guaranteed.
Window Cleaning
We can clean the insides of your windows in your residence, your commercial space, or your construction job site.  Just let us know ahead of our visit.
Refrigerator Cleaning
We can clean the refrigerator(s) in your home of commercial space during our regular visit.  Just let us know ahead of time so we can set aside some extra time.
Pressure Wash Driveway
We can pressure wash your driveway at your construction job site to remove the dirt and grime ground in by construction vehicles.
Trash Removal
If you wish, we can add trash removal to our cleaning schedule at your commercial space.  We will collect trash from all receptacles and deposit it at the appropriate collection area.
Oven Cleaning
If it's time for you oven to be deep cleaned, let us know before we visit and we can accomplish that for you.  Usually it doesn't require us to schedule extra staff, just a bit of extra time.
Pressure Wash Patios & Walks
If you want the patios and walks of your construction job site to look like they have just been poured, prior to sale, we can make that happen.  Just let us know ahead of time as we don't usually travel with our pressure washing equipment.
Spring Cleaning
After a long winter of being inside, and bringing harsh weather dirtied shoes and wet clothes into your home, you'll probably need a spring cleaning.  We can help make your home or apartment as fresh as the spring air outside.  It's a more comprehensive session that a regular house cleaning so schedule ahead of time.
Move In/Out Cleaning
One of the best moves you can make prior to moving into your new home is to let us do a thorough deep clean of the entire premises.  That way you'll be starting out with a super clean, germ free home.  Same thing goes for when you move out, you'll be doing whoever moves in a huge favor.  It can even help you get your deposits back if your a renter.
Hand Wash Blinds
Perhaps before you started using us to clean your home, the dusting of your blinds was overlooked.  That can lead to caked on grime that can't be removed by dusting during our regular cleaning services.  Have no fear!  While it is an extra cost, let us renew your blinds and make them look the best they can by hand washing them.  After that, our dusting during regularly scheduled home cleaning visits will ensure your blinds stay looking great.
Hand Wash Baseboards
Because your baseboards stick out from the wall they have a horizontal surface that can collect dust.  That's why dust baseboards is one of our standard house cleaning services.  However, if it is done on a regular basis, just like you blinds, that dust will get caked on.  The only way to get rid of it is to hand wash the baseboards.  Let us take care of that for you.  After we clean them, our regular dusting schedule will keep that black looking mess from caking on your baseboards.
Hand Wash Doors & Frames
There is almost nothing that can be done to keep you doors and door frames from getting dirty.  Every time someone passes through and touches any part of the door or frame with their hands, they transfer oils which attract dirt.  The only thing that can be done is to clean them on a fairly routine basis.  Let us take care of that for you.  It does cost a bit extra, but if you give us the go ahead, you'll never have to worry about looking at dirty doors and door frames again.
How to Get Started
Click any of the "Free Quote" buttons to request your cleaning services quote.
Fill in your contact details and information about your property
You'll choose from our list of services based on the type of property you want cleaned (home, office, constructions site)
Click the "Submit" button
How it Works
Your request for a quote will automatically be sent to us

You will receive a confirmation message on screen that it was sent

We send out an email with a 20% off coupon to your contact email as a 'thank you' gift (so make sure your email address in the contact info is correct)
What to Expect
Within one business day we will contact you to set an appointment
During the appointment we will go over your goals for a cleaning program
You will be given a quote for a customized program that meets your needs
We will start cleaning your property as agreed on the schedule we agree upon.
Recent News Updates & Articles
Check out some of our most important and/or most recent topical articles about house cleaning, commercial cleaning, and post-construction cleaning.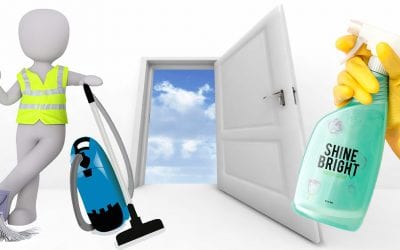 If you are on the fence about whether or not you should hire a house cleaning company to do regular cleanings of your home, I hope to help tip you over to the affirmative side of equation with this article.  I'm going to give you 5 reasons or benefits of hiring a...
read more
Request a Free Quote on a Customized Plan from Home Cleaners Johns Creek Today